Demonstration video
To get an insight into the SkidCar system, you can watch a short video by selecting the link above. We have prepared videos for different internet connection speeds, we have used 3 different screen shots from the presentations above but all three video sizes contain the same content.
What is Skid car?
SKID CAR is now operated by over 60% of the police forces in England and Wales and is the primary method of teaching skid prevention, within their defensive driving programme, used by the British Armed
Forces. SKID CAR is used at a number of British racing circuits and numerous advanced driving schools. County councils are using SKID CAR for driving training of their emergency services along with young, novice, and inexperienced drivers. SKID CAR is now operating in over 22 countries worldwide and is now the premier driving training system for major law enforcement agencies in America.
View our information brochure in PDF format, Click Here.
SKID CAR UK is fully aware of the fact that relatively few accidents are as a result of skidding; but the loss of control situation is. Once the original error has been made and not corrected the driver is in a loss of control situation. SKID CAR can replicate loss of control situations all day, everyday! SKID CAR will allow the driver to cause and correct the loss of control using the correct procedures. SKID CAR, will not cause the loss of control, the driver will!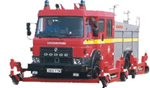 You may be aware of this unique training aid, but been unable to envisage the benefits of using SKID CAR.
Why not contact SKID CAR UK NOW and find out how you, your friends and colleagues can LEARN TODAY, AND LIVE TOMORROW!
The SKID CAR is quickly assembled and provides driving conditions that are true-to-life and just as hair-raising! With SKID CAR you can transform an ordinary road surface to ice in a flash. SKID CAR enables you to alter the degree of road grip and hence to simulate different adverse weather conditions and adverse surfaces. You can simulate aquaplaning, over and under steering conditions and black ice. SKID CAR works by altering the degree of friction between the vehicle wheels and the road Surface. A hydraulic lifting system regulates the four pivot wheels that are mounted on the SKID CAR frame. In this way you can simulate
the skidding behaviour of front, rear and four wheel drive vehicles in adverse conditions. From the control panel you can select different degrees of friction for the front and/or rear and this can be done while the vehicle is in motion.
SKID CAR is approved by the Swedish Road Safety Board for use in driver training and forms an integral part of the Swedish Driving test.
SKID CAR is used today in many driving schools and is ideal for the DSA's PASS PLUS scheme. Also ideal for advanced driver training for both for private motorists and professional drivers. SKID CAR gives you simple and effective training in ADVERSE WEATHER CONDITIONS all year around!
SKID CAR UK has a PDF file which is available for downloading and viewing, Click Here to view
---